DID YOU KNOW THAT Green Tea May Protect Your Brain in Old Age, Lowering Your Risk of Alzheimer's and Parkinson's?
January 28, 2020

Vasiliy Zakharov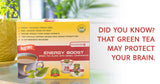 Not only can green tea improve brain function in the short term, it may also protect your brain in old age.

Alzheimer's disease is the most common neurodegenerative disease in humans and a leading cause of dementia.

Parkinson's disease is the second most common neurodegenerative disease and involves the death of dopamine producing neurons in the brain.

Multiple studies show that the catechin compounds in green tea can have various protective effects on neurons in test tubes and animal models, potentially lowering the risk of Alzheimer's and Parkinson's.