Did You Know?🤔 Garcinia cambogia is a popular weight loss supplement.
September 05, 2019

Vasiliy Zakharov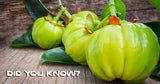 It is derived from a fruit of the same name, also called Garcinia gummi-gutta or Malabar tamarind.
The peel of the fruit contains high amounts of hydroxycitric acid (HCA), which is the active ingredient believed to be responsible for most of its weight loss benefits.
1. Garcinia cambogia supplements are made from extracts of the peel of the Garcinia gummi-gutta fruit. They contain high amounts of HCA, which is linked to weight loss benefits.
2. Garcinia cambogia may suppress appetite. It also blocks the production of new fats in your body and has been shown to lower cholesterol levels and blood triglycerides in overweight people.
3. Garcinia cambogia may have some anti-diabetes effects. It may also help protect against stomach ulcers and digestive tract damage.